SYSYPHE - RUNNING UP THAT HILL – Hadra Records OUT NOW!!!!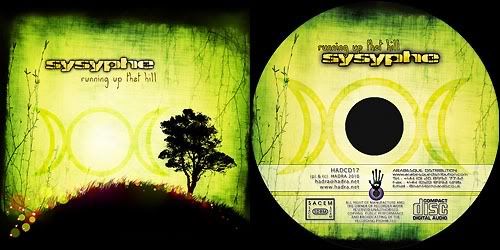 01- Hada
02- Follow the light
03- Missing Time
04- Spellbound
05- Legend of Winter
06- Hand Fasting (Magic wedding)
07- Ashes
08- Pandora
09- Sinking
10- Waves after waves

Mastering by Vincent Villuis at Ultimae Studios - Lyon – France - vince@ultimae.com
Artwork by Mic - web@mic-creation.com

Sortie : 30 April 2010
Hadra Records present to you the début album from Sysyphe aka Philip Contamin.
Taking his inspiration from the Greek mythology of Sisyphos (in French "Sisyphe"), Philip has merged gothic influences with the world of psychedelic ambient. Through the careful union of an unctuous dub background, vaporous ambient music and psychedelic melodies, the Producer takes us to the undergrowth of a deep forest. The listener is transported among trees as tall as organic cathedrals, in a place lit by a large full moon, half way between shadow and light. If you listen carefully you will hear the murmur of witches talking about love and nature; you will enter the gates to a world of vibrations, where everything breathes. Track after track, this album invites you to embark on a trip through sounds. It is an escape from everyday life, away from the "hill" that Sysyphe must eternally climb.
Sysyphe's album "Running Up That Hill" is a journey in progress, a quest for space.
More info on :
http://www.hadra.net