Rebirth:Fire Music Arts and Performance Dance Festival 28 april - 02 may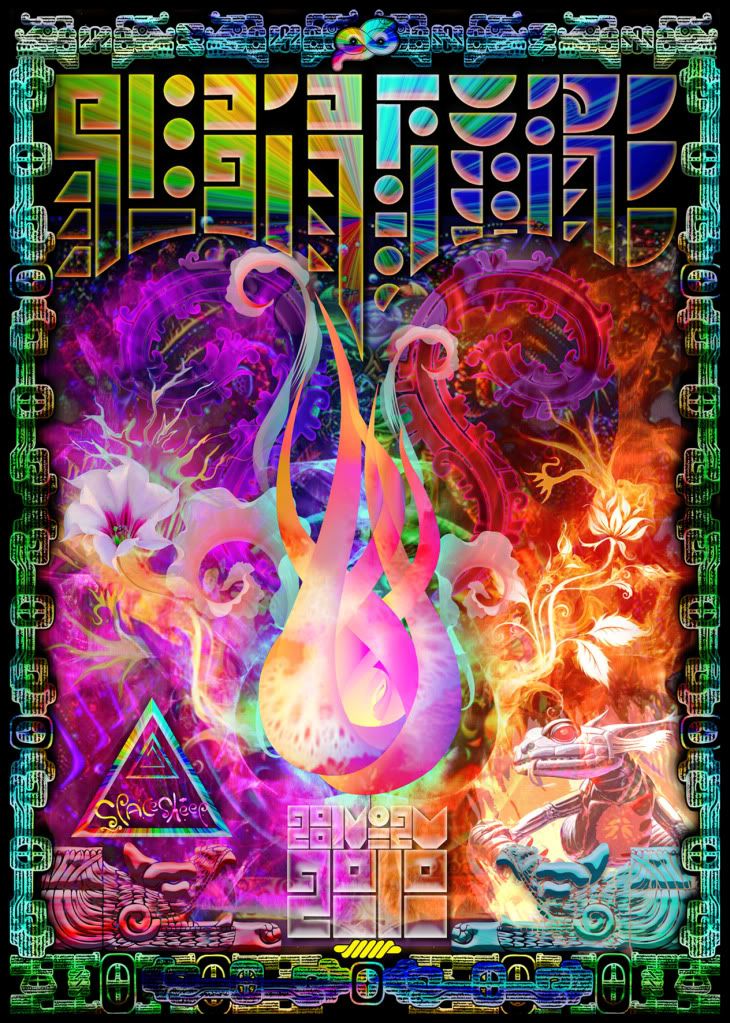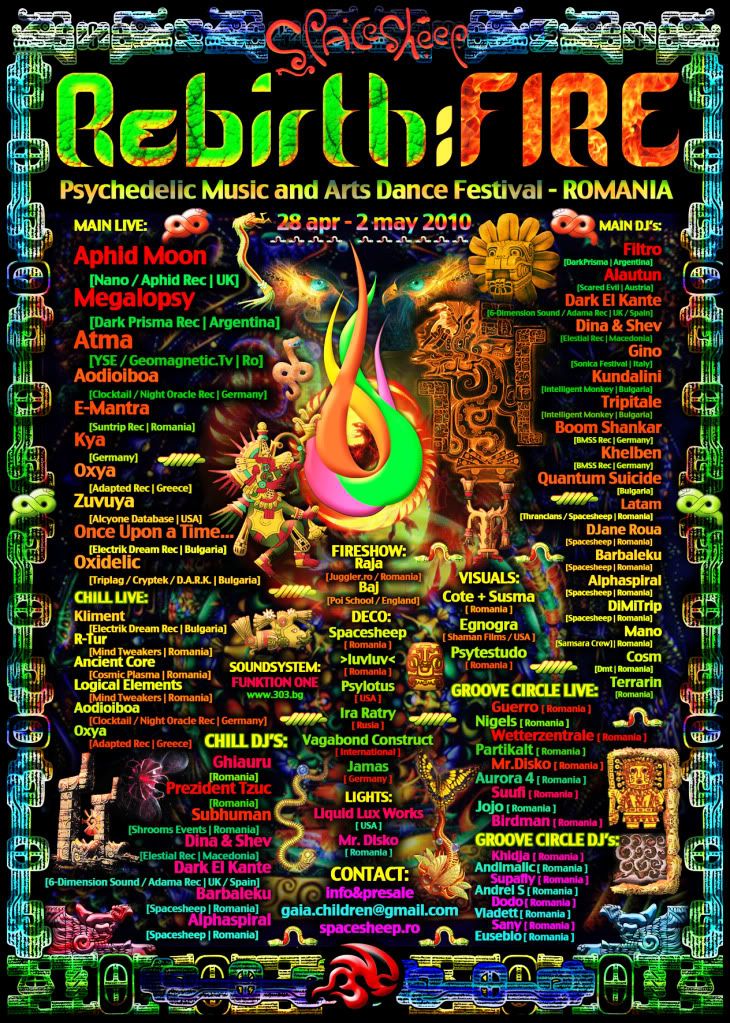 Live:
Aodioiboa [ Clocktail Rec, Night Oracle Rec, Germany ]
Aphid Moon [ Nano Rec, UK ]
Atma [ YSE, Geomagnetic.Tv, Romania ]
E-Mantra [ Suntrip Recs, Romania ]
Kya [ Germany ]
Megalopsy [ Dark Prisma Rec, Argentina ]
Once Upon a Time...[ Electrik Dream Rec, Bulgaria]
Oxidelic [ Triplag, Cryptek, D.A.R.K., Bulgaria ]
Oxya [ Adapted Rec, Greece ]
Zuvuya [ Team Infinity, USA ]
DJs:
Alautun [ Scared Evil, Austria ]
Dark el Kante (Adama Rec. UK/Spain)
Filtro [ Dark Prisma, Argentina ]
Gino [ Sonica Festival, Italy ]
Boom Shankar [ BMSS, Germany ]
Khelben [BMSS Rec | Germany]
Shev&Dina [ Makedonia ]
Kundalini [ Bulgaria ]
Tripitale [ Bulgaria ]
LGI [ Bulgaria ]
Quantum Suicide [Bulgaria]
Latam [ Romania ]
Alphaspiral [ Romania ]
Mano [ Romania ]
Barbaleku [ Romania ]
Roua [ Romania ]
DiMiTrip [ Romania ]
Cosm [Dmt | Romania]
Terrarin [Romania]
more to come...
Chill Live:
Kliment [Electrik Dream Rec | Bulgaria]
R-Tur [Mind Tweakers | Romania]
Ancient Core [Cosmic Plasma | Romania]
Logical Elements [Mind Tweakers | Romania]
Aodioiboa [Clocktail / Night Oracle Rec | Germany]
Oxya [Adapted Rec | Greece]
Chill DJs
Ghiauru [Romania]
Prezident Tzuc [Romania]
Subhuman [Shrooms Events | Romania]
Dina & Shev [Elestial Rec | Macedonia]
Dark El Kante [6-Dimension Sound / Adama Rec | UK / Spain]
Barbaleku [Spacesheep | Romania]
Alphaspiral [Spacesheep, Romania]
Deco:
Spacesheep
>luvluv<
Jamas [Germany]
Vagabond Construct [Germany]
Psylotus [USA] tbc
Ira Ratry [Russia] tbc
Visuals:
Cote+Susma [Romania]
Egnogra [ShamanFilms, USA]
Psytestudo
Sound:
FUNKTION ONE
www.303.bg
Lights:
Liquid Lux Works [ USA ]
Mr.Disko [Romania]
Location:
Carpathian Mountains, Romania
Gates open on 28th april,
Music starts on 29th
In our Journey on the path of Evolution we have a third step to make, another test to overcome, another Element to feel and Embrace, the third Ingredient of our world that contains all the three other elements, Fire has the power of Destruction and Creation, a state of transition to essence, a return to the Core letting behind all unnecessary layers, unfolding the Truth germinating Rebirth.
Come join the Ride of Fire that will guide you all through your Infinity, touring thoughts and scapes, dreams and past lives, facing limits to be burned, walls to be melted, rearranging particles to unveal new ways and twisted rabbit-holes, taking various forms on the way to God, signals of smoke from the early tribes to ourselves mark the groove to our Soul, pure Energy running like water storing the Now, uniting the Sames in the heart of One.
Be prepared for a blazing Gathering on the lands of the Dakians, tribes of the continuous Sacred Fire around which all Life is centered, our fire masters and spinners alike will raise the key to the Portal, burning cycles building the Spiral. Ritual comes together with Music into this Trance we Dance, new psychedelic sounds help the Beat take you over yourself, seeds, plants, plains, hills, mountains, seas and oceans, planets and galaxies, beyond infinity inside yourself, in Joy and Love together we vibrate, the Flame the world we kindly offer.
BOOOOOM
The Circle of Fire is open to all performers, artists and crafts people who can help lead our ship through the flames to calm crystal waters.
Participation from all members needed, expression is a key.