Javier Perez Sandoval, known as Mr. Hades,
was born in 1983, is from Guadalajara, Mexico.
Start your musical tastes by attending festivals of electronic music,
until the occasion to make their own productions,
trying to define his style in the Darkpsy.
Has been presented in several cities in the country,
sharing the stage with national artists,
(Audiopathik, Kuxxum, SOS, Xikwiri Neyrra, Arcek, Extraterrestre)
and International (Rawar, Khaos Sector Hishiryo, Mubali).
Receiving a good acceptance. Currently learning experience,
to ensure that their production will be consolidated.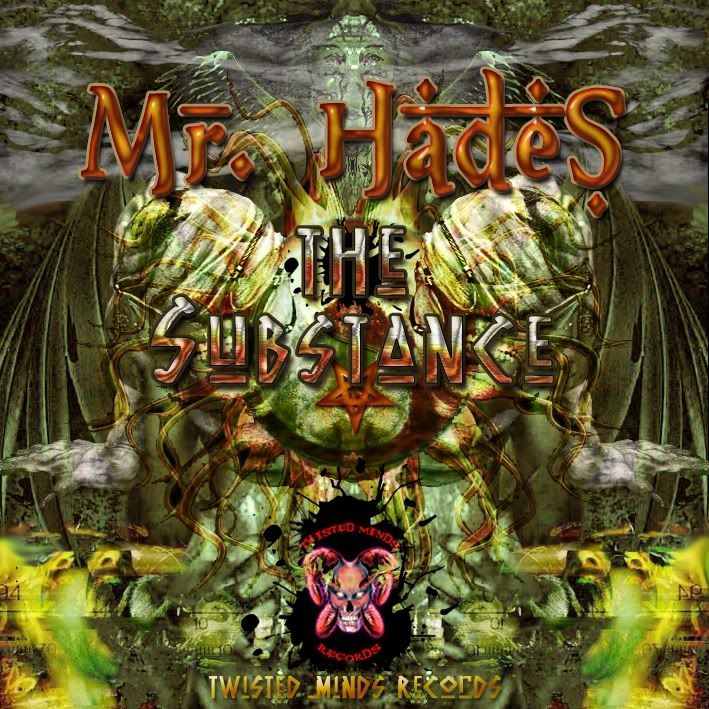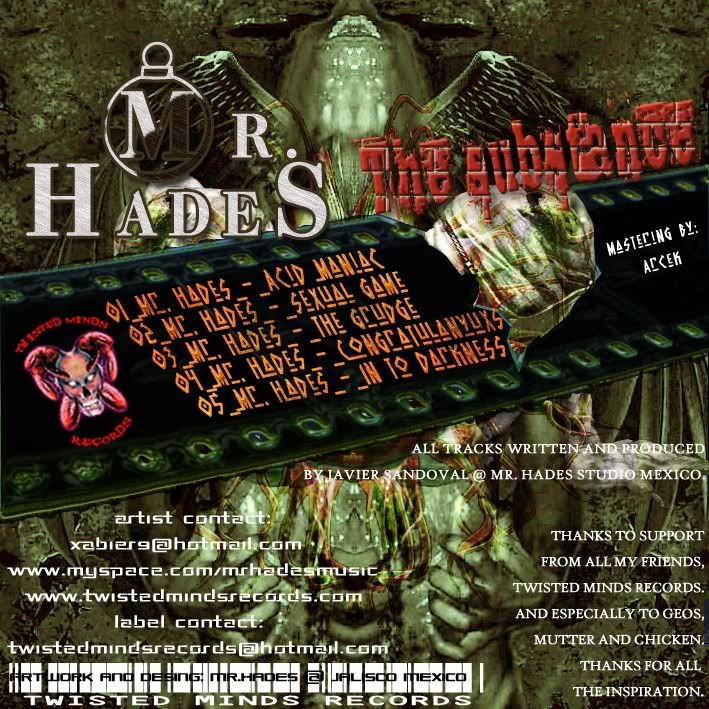 Artist: Mr. Hades
Title: The Substance Ep 2009
City Country: Zapopan Jalisco Mexico
Mastering By: Arcek (Kamino Records)
Label: Twisted Minds Records
Website:
http://www.twistedmindsrecords.com
Genre: Darkpsy
Release Date: November 2009
Artwork: Mr. Hades
Price: Free Download
Format: Wav 24 bits
Length: 35:00 m.
Tracks: 5
Studio: Mr. Hades Home Studio Mexico.
Catalog: TMRCD014
Size: Wav 24Bits 520MB
tracklist.
01-Mr. Hades_-_Acid Maniac
02-Mr. Hades_-_Sexual Game
03-Mr. Hades_-_The Grudge
04-Mr. Hades_-_Congratulanyuxs
05-Mr. Hades_-_In To Darkness
DOWNLOAD LINKS:
PT1:
http://www.sendspace.com/file/r66fk0
PT2:
http://www.sendspace.com/file/vwuipv
PT3:
http://www.sendspace.com/file/m4eat7
For Bookings, More Info And Contact:
Myspace Artist:
http://www.myspace.com/mrhadesmusic
Myspace Label:
http://www.myspace.com/twistedmindsrecords
Contact:
twistedmindsrecords@hotmail.com
Official Web Site:
http://www.twistedmindsrecords.com
:::ENJOY IT:::